Susan Cheatham Ministries
Stirring hearts through worship and infilling lives through the truth of God's Word!
Make sure to check out the Blog page for Decrees into the New Hebrew Year 5779!
The new Hebrew year of 5779 is full of expectation and blessings. We must take an active part in opening our mouth and decreeing the Word!
Lana Vawser Ministries wrote an article that explained it like this:
I heard the Lord say this morning "The year where everything changed". I could feel the excitement in the atmosphere of the enormous shift that is taking place over the body of Christ right now. As we move into Rosh Hashanah at sundown here in Australia today, I believe that the Lord is making a decree of MAJOR CHANGE as we move into 5779. (New Jewish Year)
THERE HAVE BEEN WHIRLWINDS SENT TO TRY AND TAKE YOU OUT, BUT NOW YOU SHALL EXPERIENCE WHIRLWINDS THAT WILL POSITION YOU – SUDDENLY!
There have been whirlwinds sent to try and take you out, but now the Lord is releasing whirlwinds of ACCELERATION that are going to position you – SUDDENLY.
The changes that are taking place in the spirit are NOT something to fear. The enemy is using lies and fear to create a foreboding in many hearts of what the CHANGE looks like, but I want to encourage you the changes that are going to take place will be GOOD, they are greater manifestations of the destiny of the Lord for your life.
Don't despise the uncomfortable feelings of stretching that are taking place right now. Don't despise the feelings of pressure on either side, for in the midst of it all, everything you are walking through, you are being PREPARED for what you are being led into. There has been such an intense season of preparation for so many, and now the Lord is leading His people into the greater places of positioning and Kingdom alignment.
In the battles that many of you have faced in this season, especially lately, where you have continued to stand and now that you've done all to stand, you must keep standing (Ephesians 6) the Lord is using ALL things you have been and are walking through to FORTIFY YOU and INCREASE YOU for what is before you.
There has been a SIGNIFICANT BATTLE leading up to this threshold of crossing over into 5779, and now you shall begin to see in greater acceleration and manifestation WHY the battle has been so intense.
To read more visit: https://lanavawser.com/2018/09/09/as-we-crossover-into-5779-i-heard-the-lord-decree-the-year-where-everything-changed/
'Arise with Susan'
SCM's hit ministry show 'Arise with Susan'. Each week a different ministry, business, or person is showcased along with the impact they make inside of the Kingdom. You can watch the show on our YouTube channel, XP Media, HSBN.tv, and Facebook.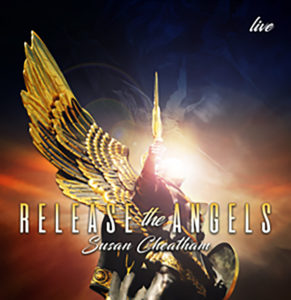 Release The Angels
New music, recorded live by Susan and her band. As you worship, you will be surrounded with God's fire and glory. Dunamis power; the resurrection power of King Jesus will flood your soul and create and atmosphere for true healing. Expect the impossible as angels are released on your behalf.